Oven – Crockpot – Pressure Cooker – Air Fryer
A baked potato, or jacket potato, is a potato that has been baked for eating. When well cooked, a baked potato has a fluffy interior and crisp skin. It may be served with fillings and condiments such as butter, cheese, sour cream, gravy, baked beans, chili, onions, bacon, or even ground meat. There are no limitations on what you can add as a topping to your baked potato. Use your imagination and creativity to your heart's desire.
Our adventure today was to work to produce delicious baked potatoes using various methods of cooking. The best part was to eat some of each type. It was an incredible experiment; very fulfilling and very filling.
The methods we chose to test included oven-baked, slow cooker baked, Instant Pot pressure-cooked, and Ninja Foodi air fryer baked. Listed below are details of all four methods and taste-test results.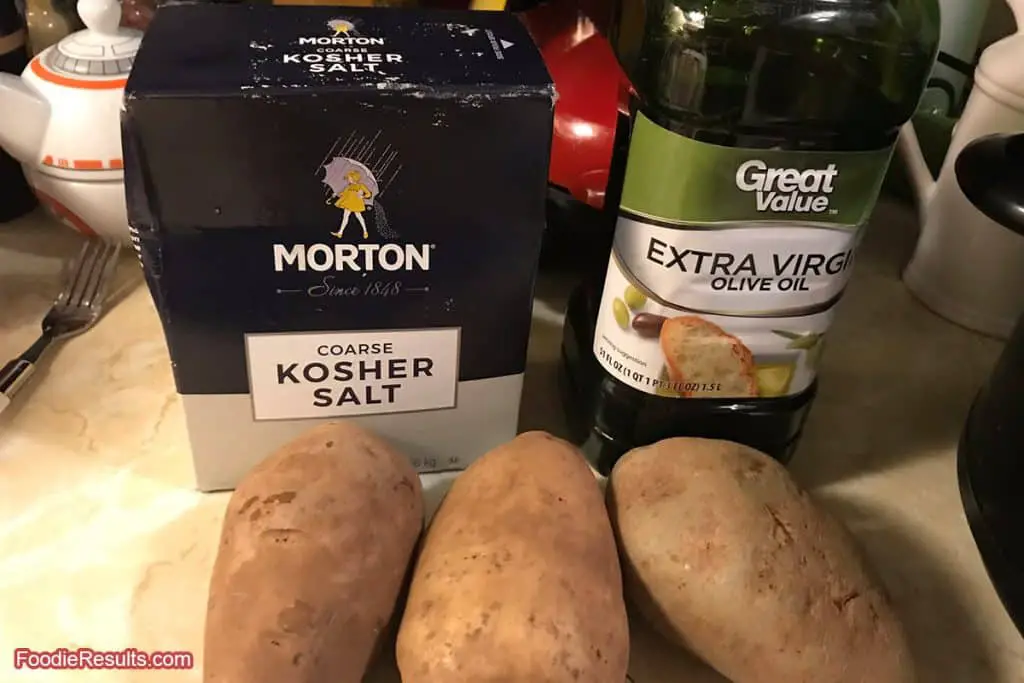 OVEN-BAKED
To start, you need to choose the best type of potato. Russet potatoes are the best for baking. They are high in starch and, when baked, end up with a light, mealy texture.
If you love the restaurant-style, crispy skin potatoes, here's how you get it.
Scrub the potatoes, then dry them.
Rub olive oil all over the outside of the potatoes.
Rub salt (or salt and pepper) on the outside of the potatoes. Be generous with both the oil and the salt. It's what gives the potatoes that unique flavor and makes you want to eat the skin.
Place the potatoes on a baking sheet and bake in a preheated oven (425ºF) for about 50-60 minutes. The exact timing will depend on how large the potato is.
You will often see recipes for wrapping a potato in foil. Although this works, it's not my preferred method. The potato gets "steamed," The skin will not get crispy if it is baked wrapped in foil. For that reason, we say no foil is best!
The purpose behind piercing a potato with a fork is to let the steam escape and prevent the potatoes from exploding while baking.
I like to bake potatoes at 425 degrees. It generally takes a large Russet potato about 50-60 minutes to become tender. The exact timing will depend on how large the potato is. For testing the potatoes, I poke them with a fork to be sure they are soft inside. The perfect baked potato will be 210º Fahrenheit and soft and still flaky inside.
The flavor of the olive oil and salt is enough for some people. Not me! I load my potato up with almost every topping in the fridge. I start with lots of butter, and then I go crazy! Add loads of sour cream, shredded cheese of your choice, chives, bacon, and even a little chili and cilantro if I have some leftover from last night's dinner.
SLOW COOKER/CROCKPOT BAKED
Slow-Cooking is a super-easy way to bake potatoes without heating the kitchen. You can cook them on high heat if you want them done within 5 hours. However, if you want to start them before heading off to work for the day, cook them on low heat.
You will need olive oil and salt to season the potatoes and aluminum foil to wrap them.
Wash the skins of the potatoes thoroughly
Prick the potatoes with a fork several times
Rub the potatoes with olive oil, sprinkle with salt
Wrap the potatoes tightly in foil
Place potatoes in the slow cooker on Low for 7-1/2 to 8 hours, or on High for 4-1/2 to 5 hours
Cook until tender and garnish as desired
INSTANT POT PRESSURED BAKED POTATOES
Don't have an hour or more until you need to serve up these delicious spuds? Why not just prepare them and throw them into the Instant Pot or Ninja Foodi and pressure cook them. Fast and easy and equally delicious and such an excellent alternative to the fast microwave method.
Wash potatoes and prick with a fork a few times.
Pour 1 cup water into Instant Pot. Place a trivet or steamer basket with short feet into the pot. You want the potatoes to be raised just enough not to be touching the water.
Place the potatoes onto the trivet. If necessary, you can stack them.
Close the lid of the Instant Pot. Turn the valve to seal and cook on high pressure for 10-20 minutes, depending on the size and number of potatoes. When the timer beeps, naturally release pressure for 10 minutes and then quickly release the remaining pressure.
Release pressure for 10 minutes and then quickly release the remaining pressure.
Remove lid and season as desired. Enjoy!
AIR FRYER (NINJA FOODI) BAKED POTATOES
Air fryer baked potatoes are so amazing! With crispy skins on the outside and a soft, tender inside, it's the perfect side dish or dinner stuffed with just about anything you desire!
You will get perfectly cooked Ninja Foodi baked potatoes every time if you follow these steps.
Wash your potatoes and dry them off with a few paper towels.
Poke around each one with a fork.
Liberally rub olive oil on each one (so much that they're kinda' dripping).
Sprinkle coarse salt all over each one.
Then place each one into your air fryer basket, so they're not overlapping. Don't overcrowd the Air Fryer basket. 4 medium potatoes would probably be my maximum recommendation. You want to make sure that the skin has enough space to crisp up and that the potatoes all lie flat (not stacked on top of each other).
Set temperature to 400 degrees for 35 minutes, then check by poking in the middle with a fork or knife.
If they aren't tender enough in the middle, set the timer for another 5 minutes and check again. Cook time will vary depending on how large your taters are, but 40 minutes is about average.
Take out when time is up, slice, and fluff up inside.
This method produces such yummy potatoes.
All in all, we had an eventful potato day! We timed all the methods so that they all were completed within a 10-minute window. That was just perfect for grabbing one of each type as they were completed to cut, flake with a fork, and fill with butter before the next batch was ready.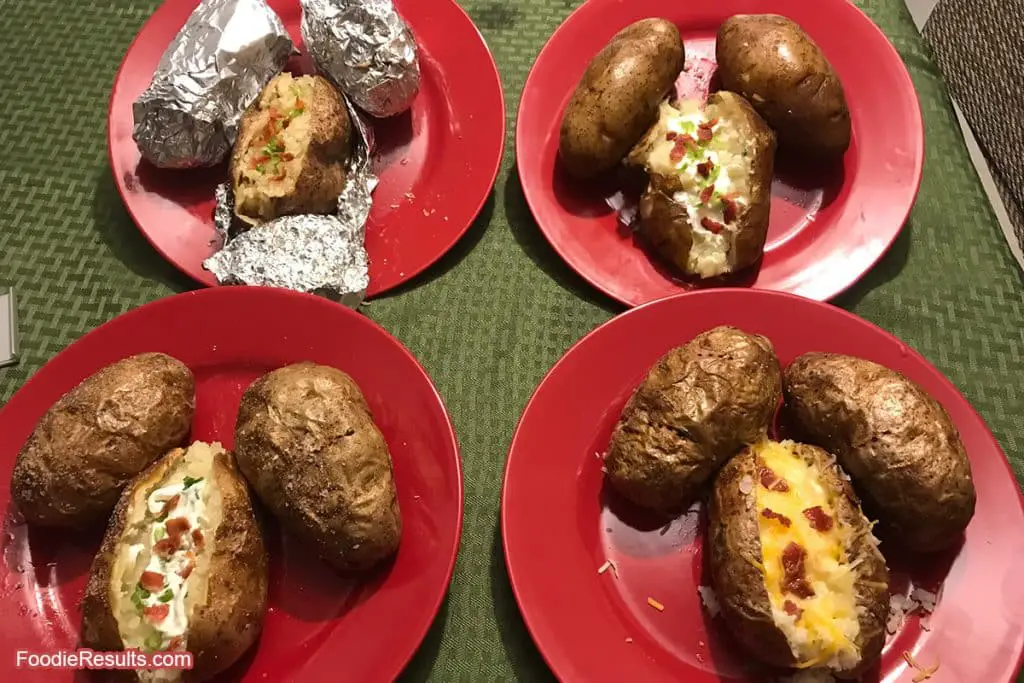 What we found was that the pressure method was the least popular. It was good tasting but not as flaky, and the skin was soft. Perhaps if using this method, a coating of olive oil and salt and then a few minutes in the air fryer or oven afterward might solve that problem. We rated this method as #4.
Next, we sampled the Crockpot method of baking potatoes. They were outstanding and flaky. However, the skin was somewhere between soft and crispy. Lots of people prefer the skin this way. We rated this method as #3.
We then tasted the oven-baked method of cooking the potatoes. There were delicious. The super flaky flesh of the potato coupled with a salty and crispy skin just filled the bill. Old fashioned taste of what Mama used to serve; however, having the oven on for over an hour at 425 degrees was not good. On a summer day, it was evident that extra heat was added to the house. In wintertime, this would be more appropriate. We rated this delicious dish as #2.
Finally, we got to dig into the potatoes cooked by the air fryer method in our Ninja Foodi! There was no doubt that this was the most delicious of all the sampled wares. The potato's meat was the flakiest of all the cooking methods, while the skin was the crispest and had the delicious flavor of the olive oil and Kosher salt baked on. The skin was so delicious that we had a problem deciding which was best; potato meat or skin! And the significant point was that the kitchen was not heated up unnecessarily on a summer afternoon. Whether you serve them with dinner or make them your main dish, you'll never make them another way again. Air frying is the way to go! Of course, we rated this Ninja Foodi Air Fryer method of baking potatoes as #1!
Guess what we had for dinner?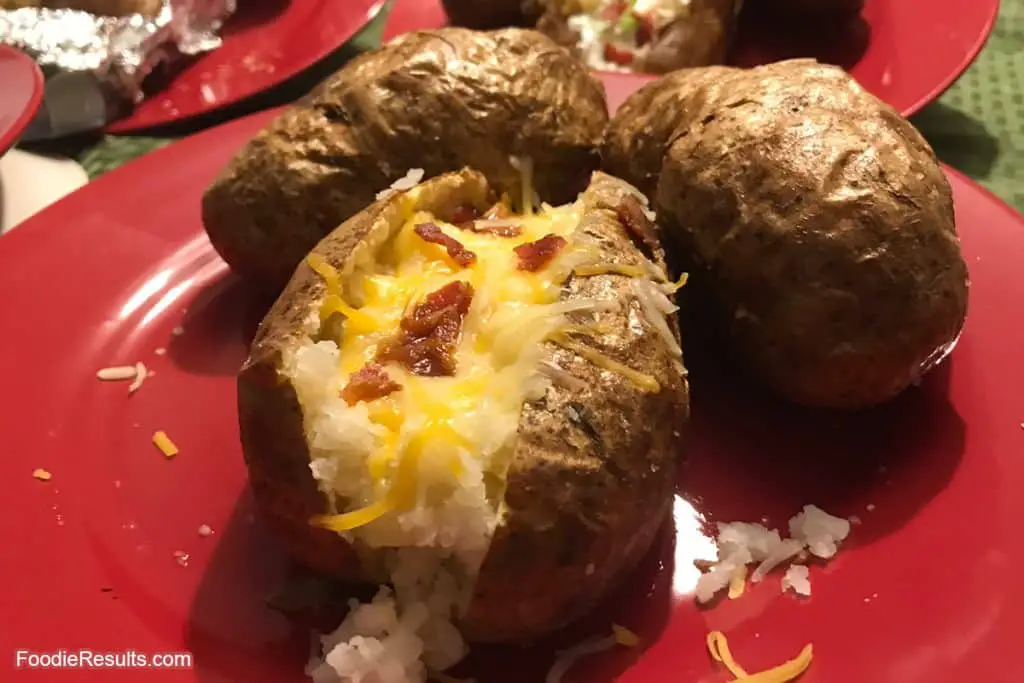 With much too many baked potatoes for two people to consume promptly, we made the super decision to turn at least half of them into twice-baked potato creations for the freezer. A couple at a time can now easily be pulled out of the freezer and warmed up in the Ninja Foodi at a moment's notice.
YAY US! YAY, NINJA FOODI!