Is The Ninja Foodi (Pressure Cooker TenderCrisper) Worth It?
Should I Get The Ninja Foodi Pressure Cooker?
My wife and I started buying and recording reviews on pressure cookers in 2017, but we were both a little uncomfortable on camera and learning to use pressure cookers for the first time. Shortly after we started, we heard about this new cooker called the Ninja Foodi. Supposedly you could pressure cook and air fry, but my wife and I were skeptical. Luckily one of my friends bought one, and once he got it, he could not stop talking about what a game-changer it was for his family and cooking meals. So my wife and I had to give it a shot!
Quick Answer: Yes! The Ninja Foodi Deluxe XL and Ninja Foodi Deluxe models are worth purchasing. Both units include pressure cooking, slow cooking, TenderCrisp (air frying), and much more! They save time, open my kitchen to new meals, and even save me money.
Imagine being able to brown meat, cook meat sauce, build a lasagna, and cook it to completion in the same pot! Completing with browned cheese from the air frying action of the TenderCrisp adds even more attraction to the product. The Ninja Foodi

can do that.
How about the ability to pressure cook chicken, cutting the total cook time down to a third, then cooking rice and putting a nice crispy edge on the chicken? Yeah, Ninja Foodi can do that too.
And the list goes on and on!
My wife and I love our Ninja Foodi Deluxe XL (8 qt model) 12-in-1, we use it all the time, and it has even prompted us to buy accessories and push the unit to the limits. We slow cook, make yogurt, dehydrate, cook steaks, and much more.
I've even ended up buying other Ninja Foodi products. We also have the Ninja Foodi Digital Oven, Ninja Foodi Grill (thanks to Nathan for the Christmas gift), and a Ninja Creami.
If you want more detail about why I think the Ninja Foodi lineup is worth getting, keep reading, and I will cover all the features and some cool things you can do with them.
What Ninja Foodis Are Available?
Before we talk about features, let me tell you what is available now. When my friend Nathan and I got our cookers, we chose different models. My wife and I got the Ninja Foodi Deluxe XL, and Nathan got the Ninja Foodi Deluxe, which are the 8 qt and 6.5 qt models, respectively.
The full official name is "Ninja® Foodi™ 8-qt. 12-in-1 Deluxe XL Pressure Cooker & Air Fryer," and you will often see Air Fryer replaced with TenderCrisp. I think it is clever marketing on their part to use both. Most people will know that Air Fryer[ing] is what it does, but TenderCrisp is its branding specifically. This is the model my wife and I have.
You can't easily find the original 6.5 model on their website, although it is there; instead, they have a new version called the Ninja Foodi 14-in-1 6.5. You can still easily find the Ninja Foodi Deluxe XL 8 qt model like mine, but I don't know how long these models will be on their website.
The full name of the 6.5 qt model is "Ninja Foodi 9-in-1 6.5qt Pressure Cooker and Air Fryer," this is the model Nathan has.
It looks like the replacement for that is the Ninja Foodi 14-in-1 XL and Smart XL. From what I can see, this seems to be a massive update with a 1-lid design. I will have more information on this in the future.
This article explicitly covers the models I have available to me right now. For now, both of these are still on the Ninja Kitchen website; however, as I said above, the 6.5 qt model was harder to locate, but you can still find these in many stores and on used markets or second-hand shops. Once I get my hands on one of the newer models, I will create unique content surrounding them!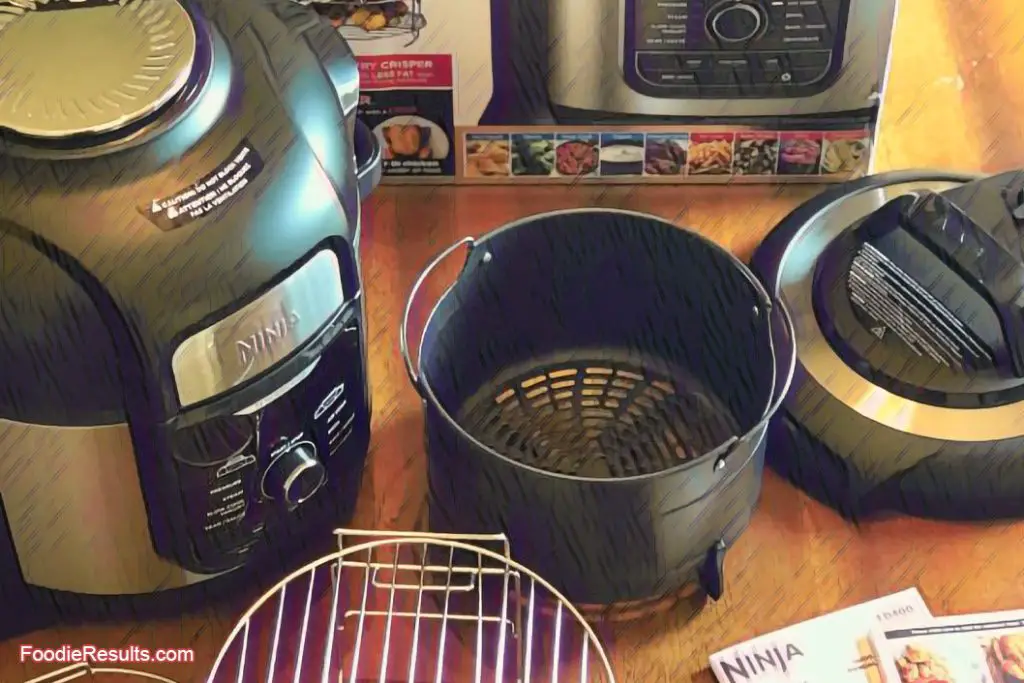 Things I Wish Were Different
About My Model?
I love experimenting with my pressure cookers (I have several already), so I ordered the accessories to try them out. So far, my complaints are simple. Having a "floater" lid is annoying, and having a cover that sticks up when using the floater is annoying.
What do I mean by "floater"? I'm referring to the pressure lid hanging out and "floating around" when I'm not in use or storing my Foodi. However, it's funny I'm mentioning this as the new version eliminates this problem and has a single-lid design!
The other thing I would say is slightly annoying is the noise it makes when Air Frying. I don't have much to compare it with, but we did have the Ninja Foodi Digital Air Fry Oven, which caused much less noise.
Conclusion
All in all, the last thing I want to mention is that many kitchen gadgets and tools seem like fads that go in and out over time, but the Foodi lineup has produced some valuable items that make sense. We used our Foodi stuff more than our microwave and didn't even notice when it died over a year ago.
The only reason we got a new microwave is my lovely Mother-in-law. Since my wife bakes, she needs to melt chocolate from time to time, and I guess she had mentioned to my Mother-in-law that she didn't have a microwave.
So I say, yeah, totally worth the purchase.