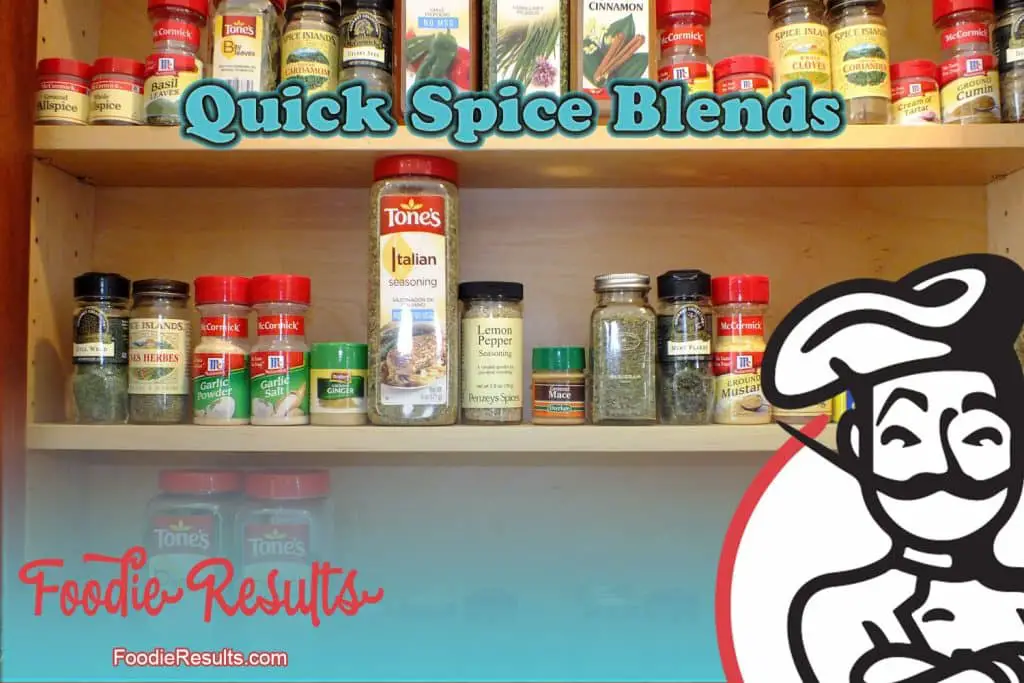 Have you ever thought about creating your own recipes for seasoning blends? Now is your chance to try. I prefer them to prepared packaged ones. This listing of spice

blends is designed to make it easier for you to concoct these recipes in small amounts or larger amounts.
Branch out and even use these suggestions as a base and add your own personalization to them.
Spice Blends
Taco Spice Blend
Enchilada Spice Blend
Fajita Spice Blend
1 part cumin
3 parts chili powder
4 parts paprika
1 part oregano
1 part cumin
1 part onion powder
1 part garlic powder
1 part oregano
1 part garlic powder
1 part chili powder
1 part chili powder
1 part cumin
1 part oregano
Italian Seasoning
Tuscan Heat Spice
Meatloaf Seasoning
1 part garlic powder
4 parts basil
2 parts garlic powder
1 part oregano
2 parts rosemary
2 parts onion powder
1 part basil
2 parts oregano
1 part dried thyme
1 part black pepper
2 parts garlic powder
1 part dried basil
1 part parsley
1 part low-heat cayenne
1 part ground fennel
Shawarma Spice Blend
Sweet Smoky BBQ Spit
Smoky Cinnamon Paprika SF
2 parts turmeric
8 parts smoked paprika
1 part ground cloves
2 parts cumin
6 parts sugar
8 parts onion powder
1 part dried coriander
2 parts garlic powder
8 parts ground cinnamon
1/2 part ground allspice
5 parts black pepper
6 parts smoked paprika
1 part garlic powder
1 part dry mustard
16 parts mustard powder
1 part paprika
1 part cumin
24 parts sweet paprika
1/2 part black pepper
1 part ground ginger
24 parts sugar
Blackening Spice Bl
Herbes de Provence
Steak Spice Blend
3 parts smoked paprika
1 part savory
1 part red chill fakes
1-1/2 part garlic powder
1 part thyme
1 part crushed coriander seed
1/2 part white pepper
1 part rosemary
2 parts crushed dill seed
1/2 part black pepper
1 part basil
3 parts crushed mustard seed
1/4 part thyme
1 part tarragon
4 parts dried minced garlic
1/4 part oregano
1 part lavender flowers
4 parts crushed black pepper
1/4 part low-heat cayenne
3 parts kosher salt
Turkish Spice Blend
Thal Seven Spice Blend
Cajun Spice Blend
8 parts cumin
2.5 parts white
sesame seed
2 parts onion powder
8 parts garlic powder
1 part chili flakes
2 parts paprika
4 parts coriander
1 part ground coriander
1 part oregano
1 part allspice
1 part onion powder
1 part garlic powder
1 part chili flakes
1/2 part garlic powder
1 part thyme
1/2 part shrimp extract powder
1/2 part basil
1/4 part cinnamon
1/2 part cayenne
1/4 part low-heat cayenne
Southwest Spice
Fry Seasoning
Fall Spice Blend
2 parts garlic powder
1 part garlic powder
3 parts thyme
1 part cumin
1 part onion powder
2 parts ground sage
1 part chili powder
1 part paprika
1/2 part onion powder
1/2 part garlic powder
Moo Shu Spice Blend
1 part ground ginger
1 part garlic powder