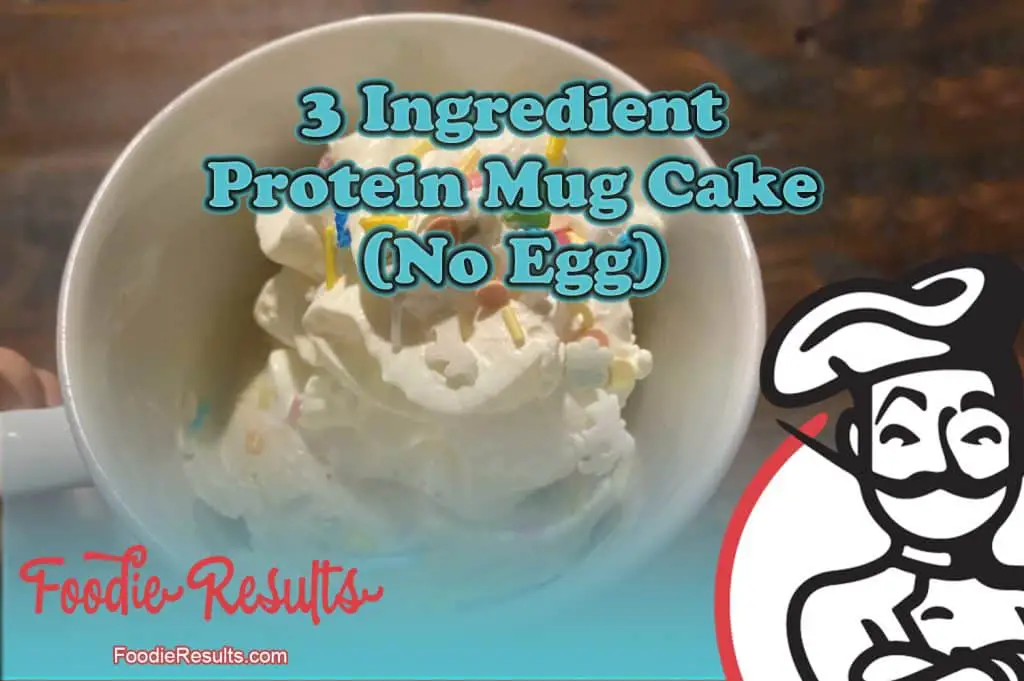 3 Ingredient Protein Mug Cake (No Egg)
Who doesn't love a good mug cake? They are quick, easy, and, most importantly, delicious! Made with simple ingredients, this eggless mug cake is a new favorite! This 3 ingredient protein mug cake is perfect when you are craving something sweet but don't want to derail your healthy eating habits or if you're just simply tired of drinking whey protein shakes every day.
Macro Breakdown & Calories
Calories: 175
Carbohydrates: 15 g
Protein: 27 g
Fat: 1 g
3 Ingredient Protein Mug Cake (No Egg) Ingredients 
Protein Powder
Protein powder is the key ingredient in this mug cake and boosts its protein, which benefits workout recovery, meal satiety, and muscle building. You can use any protein powder, but I prefer whey or casein protein for this recipe. If you are vegan or have a dairy allergy

, plenty of plant-based protein powders on the market will work just as well.
Coconut Flour
Coconut flour is a great gluten-free alternative to traditional wheat flour. It is also high in fiber and helps to keep this mug cake light and fluffy. If you don't have coconut flour, you can substitute it with almond or regular all-purpose flour.
Almond Milk
You will need some sort of milk for this recipe, whether dairy or non-dairy. I like almond milk in our mug cakes, but any type of milk will work. If you want a more decadent mug cake, you can use half and half or heavy cream instead of milk.
How To Make 3 Ingredient Protein Mug Cake (No Egg)
Step 1
Start by adding the protein powder and flour to a mug or small bowl and whisking them together. Add in the milk and stir until everything is well combined.
Step 2
Microwave on high for about 60-90 seconds or until the cake is cooked. Be careful not to overcook it, or the cake will dry. 
Step 3
Allow the mug cake to cool for a few minutes before topping it with your favorite toppings. I like to keep things simple with a dollop of whipped cream and a sprinkle of chocolate chips, but you can get as creative as you want! 
Customizations 
Change The Flavor
This mug cake can take on any flavor of protein powder. You could try flavors like cookies and cream or strawberry. If you're feeling vanilla, go for vanilla protein powder.
Add Mix-Ins
If you want to mix things up, try adding some mix-ins to your mug cake batter before cooking. 
You could add a tablespoon of peanut butter or Nutella for an extra indulgent treat! A few chocolate chips or a small handful of chopped nuts would be delicious. 
I wanted to keep mine pretty straightforward, so I just used sprinkles!
Get Creative with Toppings
Topping your mug cake is where you can let your creativity shine. In addition to whipped cream and chocolate chips, some other great topping ideas include:

Whipped cream (what I used)
Fresh fruit
Caramel or chocolate sauce
Chopped nuts
Shredded coconut
Cinnamon or nutmeg
How To Store & Meal Prep: 
This mug cake is best fresh, but you can store leftovers in the fridge for up to 2 days. If you want to meal prep this recipe, make the batter and store it in a jar or container in the refrigerator. 
When you're ready to enjoy a mug cake, simply scoop out the desired batter and cook according to the recipe instructions.
Kelsey developed this recipe at FeastGood.com. On their website, you can also read similar articles. Check out this one about consuming whey protein shakes daily

.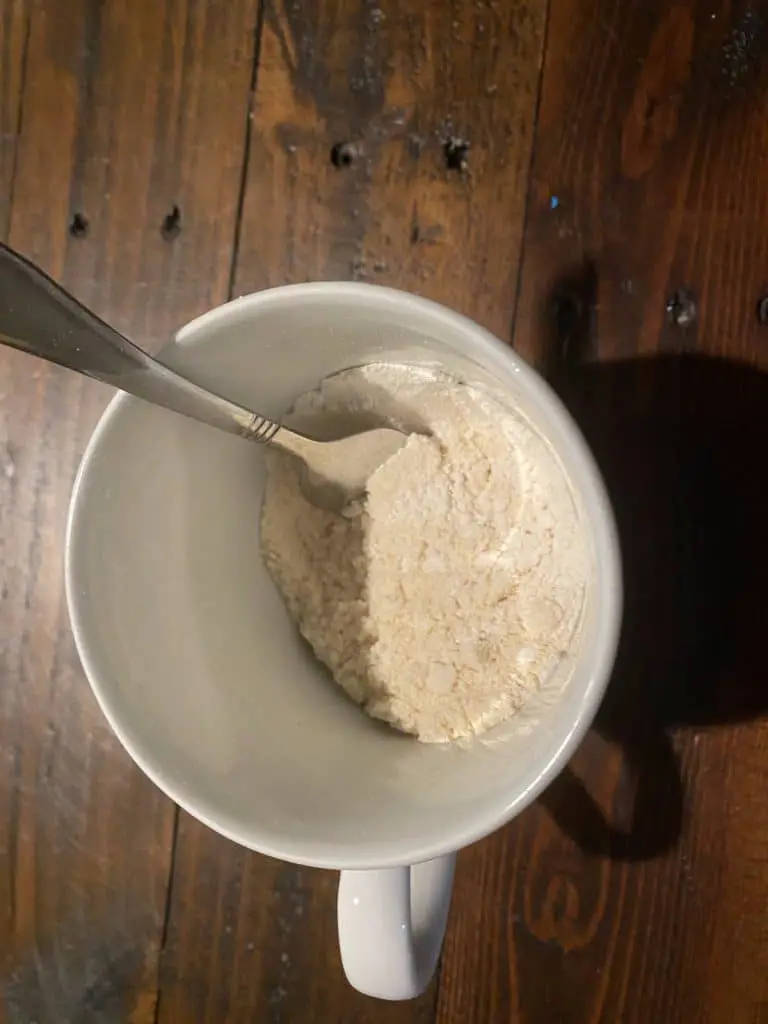 Ingredients
One scoop of protein powder
Two tablespoons of coconut flour
3-4 tablespoons of milk of choice (dairy or non-dairy)
Optional toppings: whipped cream, sprinkles, chocolate chips, chopped nuts, etc.
Instructions
Add the protein powder and flour to a mug or small bowl and whisk together.
Add in the milk and stir until everything is well combined. Fold in mix-ins here if using (I added sprinkles).
Microwave high for 60-90 seconds or until the cake is cooked.
Allow the mug cake to cool for a few minutes before topping it with your favorite toppings. (I used whipped cream)