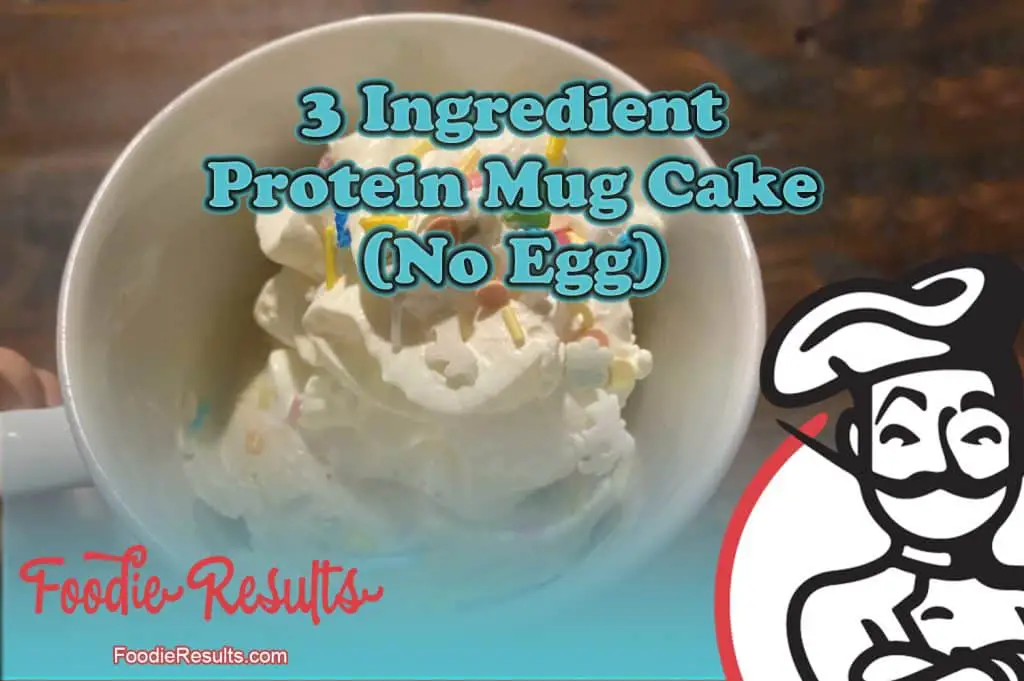 3 Ingredient Protein Mug Cake (No Egg)
Let's face it, we all adore a great mug cake! Quick, easy, and most importantly, scrumptious, they're the perfect treat. This eggless, 3-ingredient protein mug cake, in particular, is fast becoming a new favorite for many. Whether you're looking to curb your sweet cravings without sabotaging your health-focused lifestyle, or are simply yearning for a change from your daily intake of whey protein shakes, this mug cake fits the bill. Intriguingly, it is versatile too—you can experiment with several alternatives and modifications to cater to different tastes and dietary needs. Moreover, picking the right protein powder for the recipe is also a skill to master. Stay tuned for tips on making the most of this delightful creation!
Macro Breakdown & Calories
Calories: 175
Carbohydrates: 15 g
Protein: 27 g
Fat: 1 g
3 Ingredient Protein Mug Cake (No Egg) Ingredients 
Protein Powder
The secret weapon in this mug cake? Protein powder! It ramps up the protein content, aiding in workout recovery, meal satiety, and muscle-building. You have the freedom to choose your preferred protein powder – whey or casein are my top picks. But worry not if you're vegan or battling a dairy allergy, several vegan-friendly, plant-based protein powders are readily available on the market. Let's delve into the details and explore the potential benefits of different protein powder types.
Coconut Flour
Why coconut flour? Well, besides being a fantastic gluten-free swap for regular wheat flour, it's also rich in fiber — helping to add a light and fluffy texture to your mug cake. Don't have coconut flour at your disposal? No problem! Almond flour or even good ol' all-purpose flour make worthy replacements. Let's dive a little deeper into the benefits of coconut flour and discuss other suitable alternatives.
Almond Milk
Milk is an essential component in bringing this recipe together, whether you're leaning toward dairy or prefer a non-dairy alternative. Personally, I favor almond milk in my mug cakes, but don't hold back from trying other choices for different flavor experiences. Want a richer, more indulgent mug cake? Half-and-half or heavy cream can be your new best friends. Let's examine the various kinds of milk you could incorporate, and how they affect the mug cake's flavor and texture.
How To Make 3 Ingredient Protein Mug Cake (No Egg)
Step 1
Getting started is easy! Begin by adding your chosen protein powder and flour to a mug or a small bowl. Give it a nice whisk to ensure they are evenly mixed. Gradually pour in the milk, stirring continuously to achieve a smooth and well-integrated batter. Remember, the better you mix, the better your mug cake turns out!
Step 2
Next, pop your mug into the microwave, setting the power on high. Keep an eye on your delectable creation for about 60-90 seconds, or until the cake is cooked to perfection. Beware of overcooking, lest you end up with a dry and lackluster cake. Stay tuned, as we share some tips for determining the sweet spot in cooking time to ensure a moist and delicious mug cake every single time.
Step 3
Allow the mug cake to cool for a few minutes before topping it with your favorite toppings. I like to keep things simple with a dollop of whipped cream and a sprinkle of chocolate chips, but you can get as creative as you want! 
Customizations 
Change The Flavor
This mug cake can take on any flavor of protein powder. You could try flavors like cookies and cream or strawberry. If you're feeling vanilla, go for vanilla protein powder.
Add Mix-Ins
If you want to mix things up, try adding some mix-ins to your mug cake batter before cooking. 
You could add a tablespoon of peanut butter or Nutella for an extra indulgent treat! A few chocolate chips or a small handful of chopped nuts would be delicious. 
I wanted to keep mine pretty straightforward, so I just used sprinkles!
Get Creative with Toppings
Topping your mug cake is where you can let your creativity shine. In addition to whipped cream and chocolate chips, some other great topping ideas include:

Whipped cream (what I used)
Fresh fruit
Caramel or chocolate sauce
Chopped nuts
Shredded coconut
Cinnamon or nutmeg
How To Store & Meal Prep: 
This mug cake is best fresh, but you can store leftovers in the fridge for up to 2 days. If you want to meal prep this recipe, make the batter and store it in a jar or container in the refrigerator. 
When you're ready to enjoy a mug cake, simply scoop out the desired batter and cook according to the recipe instructions.
Kelsey developed this recipe at FeastGood.com. On their website, you can also read similar articles. Check out this one about consuming whey protein shakes daily

.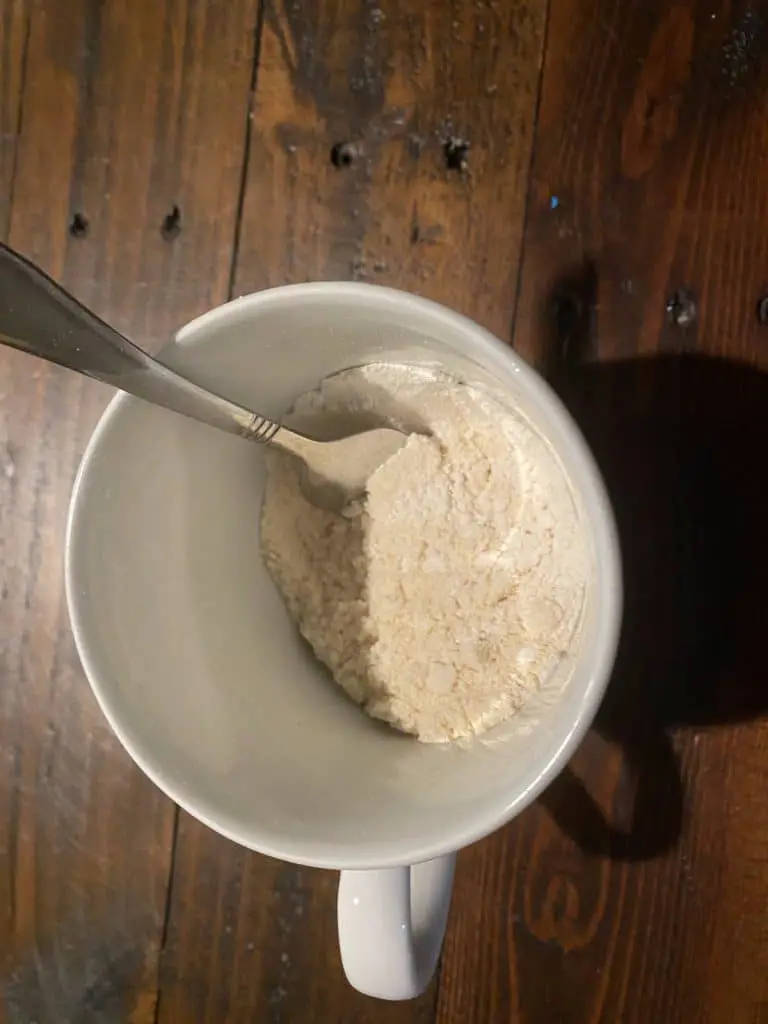 Ingredients
One scoop of protein powder
Two tablespoons of coconut flour
3-4 tablespoons of milk of choice (dairy or non-dairy)
Optional toppings: whipped cream, sprinkles, chocolate chips, chopped nuts, etc.
Instructions
Add the protein powder and flour to a mug or small bowl and whisk together.
Add in the milk and stir until everything is well combined. Fold in mix-ins here if using (I added sprinkles).
Microwave high for 60-90 seconds or until the cake is cooked.
Allow the mug cake to cool for a few minutes before topping it with your favorite toppings. (I used whipped cream)