If you're cooking for a large family and have many mouths to feed, a large cooking appliance can help you cook with one snap.
Answer: Ninja Foodi (#DT201), a 10-in-1 XL Pro Air Fry Oven, Large Countertop Convection Oven is the largest Ninja Foodi.
A larger pot means larger meals. Having a piece of equipment to do all of the cooking is such a relief. Ninja Foodi offers a variety of cookers that can accomplish preparing anything you want. Ninja Foodi #DT201 has a 17.09 inches L x 20.22 inches W x 13.34 inches H and weighs 33.6 lbs. You can cook a  5-lb chicken, two 12 inches pizzas, or 12-lb turkey using this oven. In case you are conscious of your power consumption, this appliance's power rating is 1800 watts. Ninja Foodi #DT201 Convection Oven offers faster and crispier food through its convection power, ten times better than a standard convection oven. The cooking time will be thirty percent faster than a standard convection oven, and preheat time will only take ninety seconds. Frying oily meat can be much healthier when you use this oven to air fry; it turns your meal into one with 75% less fat than a standard convection oven. This oven is also perfect for making pizza and baking due to its 50% more even distribution of heat than other convection ovens.
How much does it cost?
Ninja Foodi (#DT201) a 10-in-1 XL Pro Air Fry oven, Large Countertop Convection Oven costs 279.99 dollars. Along with the convection oven, the package also includes an 1800-Watt unit, two sheets pans, an air fry basket, a crumb+ tray, two-wire racks, a roast tray, an instruction booklet, a quick start guide, and an inspiration guide. Buying this oven also includes a one-year warranty and a 60-day money-back guarantee.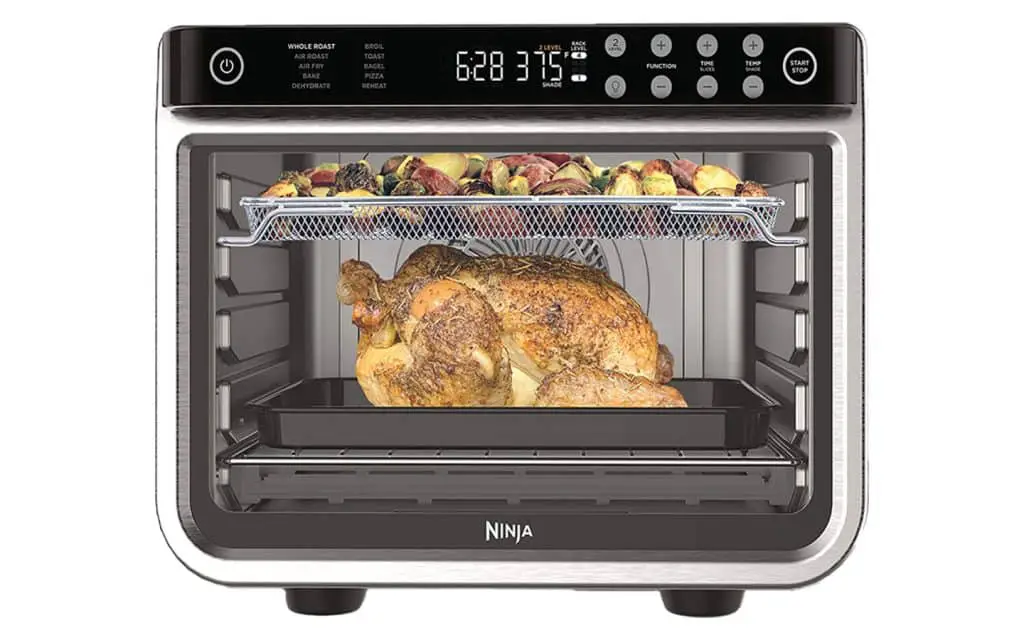 What is the largest Ninja Foodi Cooking Pot?
Ninja Foodi (#FD402) 8-quarts, 9-in-1 Deluxe XL Pressure Cooker, and Air Fryer are the largest in the Ninja Foodi pot family. It has a dimension of 16.1 inches L x 14.57 inches W x 14.29 inches H and 26.04 lbs in weight. This pot has a cooking capacity of 8 quarts, perfect for cooking large meals, especially those with fluids.  #FD402 also offers nine programmable cooking functions; Pressure Cook, Air Fry/Air Crisp, Steam, Slow Cook, Yogurt, Sear/Sauté, Bake/Roast, Broil, Dehydrate. To attain a crispy and golden finished meal, this pot has TenderCrisp Technology that lets you pressure cook in just a short amount of time. This pot also has a deluxe cooking capacity that lets you cook in an 8-quarts pot, 5-quarts-pot, Cook & Crisp Basket, and Deluxe Reversible Rack for the smaller cooking groups. Deluxe Reversible Rack lets you steam and broil eight chicken breasts at the same time.  The 8-quarts and 5-quarts pot are also non-stick with ceramic-coating to ensure enjoyment on your cooking and lessen cleaning time.  All of this is available at 249.99 dollars.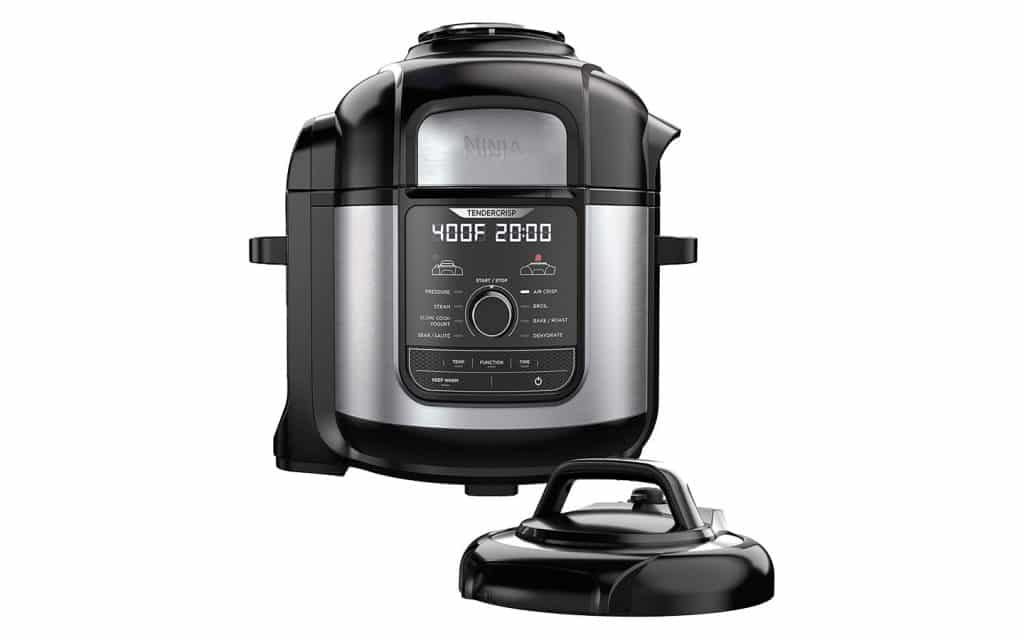 What is the smallest Ninja Foodi  Air Fryer?
Ninja Foodi Air Fryer #AF101 is the smallest of its class. Air Fryer #AF101 comes with a 4-quart non-stick ceramic coated basket and crisper plate. Using this air fryer helps you lessen your meal's fat content by 75% compare to other air fryers.  The temperature inside the air fryer can vary from 105-400 degrees Fahrenheit to remove the water inside your meal faster and make it crispier than any other air fryer can accomplish. The crisper plate is big enough to fit 2 lbs of French fries inside of it. This Air Fryer also has a dehydration function that helps you create a thinner chip for your snacks.  All of this cost only $89.99 with a 1-year warranty and a 60-day money-back guarantee.  The package includes a 4-quart ceramic-coated, nonstick basket and crisper plate, multi-layer rack, and a 20-recipe inspiration guide.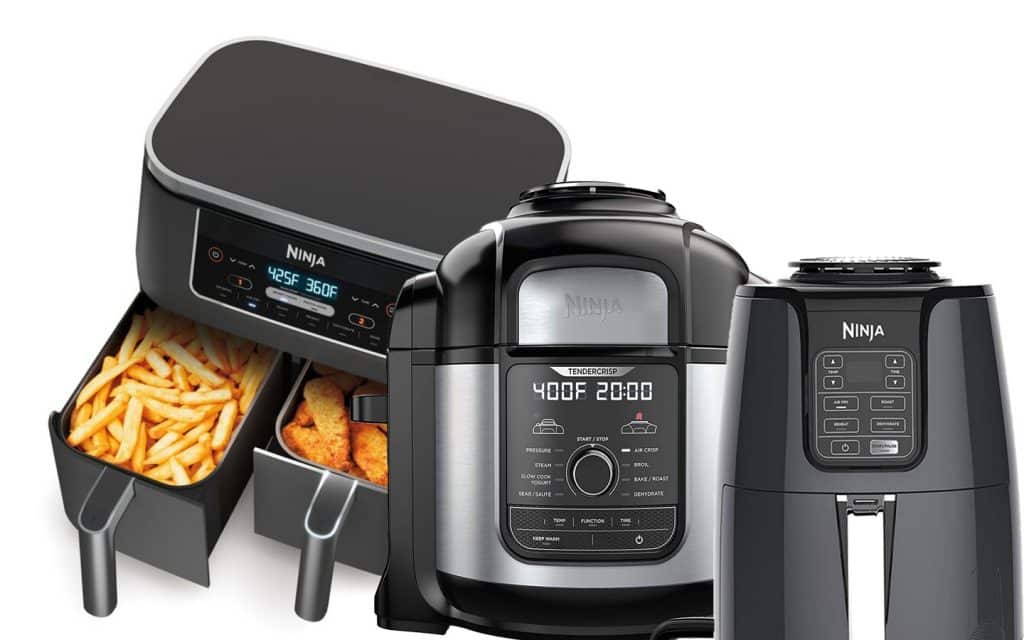 Sources:
 www.ninjakitchen.com/exclusive-offer/FD402WBKT/ninja-foodi-8-qt-9-in-1-deluxe-xl-pressure-cooker-air-fryer/www.ninjakitchen.com/exclusive-offer/DT201WBKT/ninja-foodi-10-in-1xl-pro-air-fry-oven-large-countertop-convection-oven/