Important: This post will be updated as we find new Infomercials, and as we make the same or similar recipes, I will add links to our videos and articles.
As a kid, I had a little trouble sleeping. I would stay up reading or watching all the fascinating new products on infomercials. I know it is a little strange, but I loved them! I learned about some cool new things, many of which I had never bought, and a little about salesmanship from an entertainment standpoint.
So if you are considering getting a Ninja Foodi, I think there is no better way to make an introduction than to watch a few infomercials, check out our YouTube channel, where we cook authentic dishes, and stick around to read a few articles.
Ninja Foodi Multi Cooker by Ninja Kitchen
Infomercial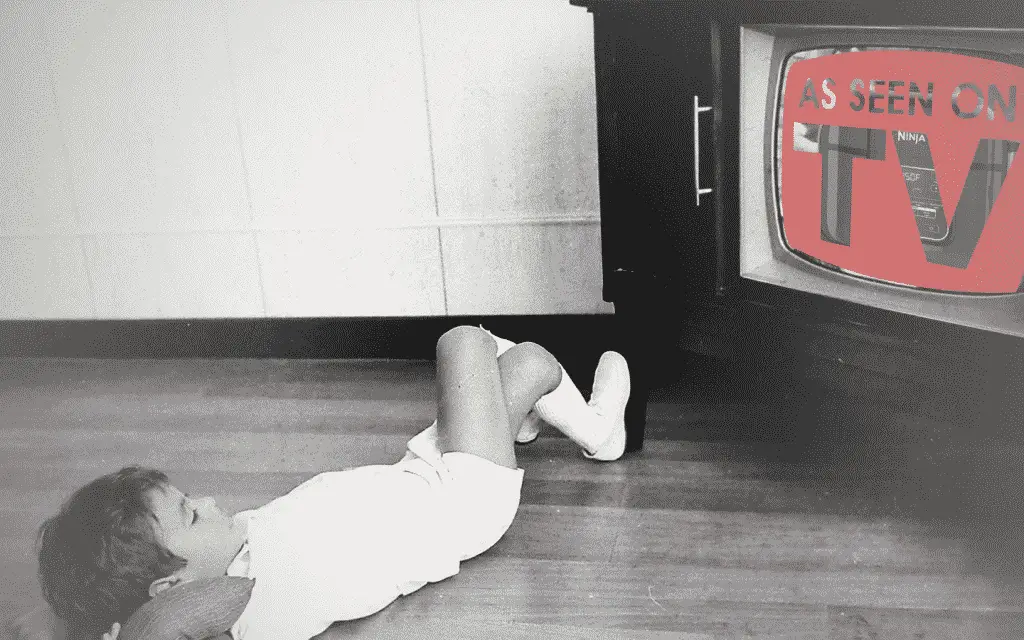 Shark Ninja Production
This infomercial has several celebrity chefs.
At 6:50, we have our first chef Elizabeth Karmel

. She is going to make a Pepperoni Pizza Bake and St. Louis Ribs.
7:25 They jump right in, making the Pepperoni Pizza Bake and showing some of the more remarkable features of the Foodi by mixing the pasta right into the sauce. Then comes the cheese and pepperoni for a quick meal that looks amazing. I can't wait to try this one out and make a video for you guys.
Total 30 min – cook time
9:32 They will jump right into the ribs by cooking the meat under pressure. Add the sauce, then tender and crisp them. OMG, I can't believe I have not already done this dish, but I can promise it is coming soon!
Total 1 hr – cook time
11:08 "Introducing Ninja Foodi"
Ok, I must admit I geek out a little on this stuff. Call me a weirdo, but I love this part of infomercials. It is typically a fast-paced, information-packed section where we learn something extraordinary, and they usually do an excellent job selling the product. In this case, I already own a Ninja, and I still love watching this section!
70% FASTER right from frozen! LOL, I'm telling you I love these parts, and I have to say they are doing a great job of making me hungry all over again!
14:48 Our second celebrity is the chef and author Aarti Sequeira. Her two meals will be "weeknight chicken dinner" and "sneaky mama mac and cheese," and they look fantastic!
15:22 – Weeknight Chicken Dinner is excellent because this is a "360 Meal," meaning it has protein, vegetables, and starch in 1 meal. This demo is nice because she shows us some secrets for better results with different food types.
Total 35 min – cook time
17:54 Sneaky Mama Mac and Cheese, and you will love this one because it is sneaky due to the fact that there are hidden vegetables inside 😉 Also, as a bonus, this meal has a crispy top. I can't go back to the old ways of cooking.
Total ~40 min – cook time
21:05 Next in our lineup, we have Justin Warner, celebrity chef and author. And he is going to show us short ribs with roasted veggies!
The Foodi is "speed dating for flavors" lol I love this!
24:44 "Introducing the Ninja Foodi" is the exact rundown as before. Here I am, getting hungry again!
.
QVC Ninja Foodi XL 8-qt: Thanks Giving Dinner
This one seriously gets me excited, and I'm thinking, "how can they fit Thanks Giving dinner in 15 min?" I know the answer is the magic of a lot of editing but follow along as I give you some time breakdowns below.
0:00 Start by pulling a turkey breast out that has been cooking for an hour. It looks amazing!
4:30 Casserole (Sam's mac-n-cheese) is super creamy and cheesy mac and cheese. This looks very similar to the one in the book, but I will investigate and link back after we have made something like this.
6:00 Mashed Potatoes. One of my favorite dishes. She gives an excellent breakdown of how to make and mash the potatoes in the Foodi.
7:43 Baked Rolls! Yeast dinner rolls! I've been waiting to see some baking, and here it is!
8:58 French Fries. I tried some fries but was unhappy with the results, so I will have to revisit this. However, I will say the fries my wife cooked dropped around four tbs of oil in the bottom of the bowl!
10:20 A little note about cleaning the Air Fryer lid. I will have an article and video about this very soon.
12:43 Risotto, I have to admit I don't have experience with this one, so I'm looking forward to trying it out.
BOO, at the 15 min mark, they cut this one. She was about to show fried Risotto, and from what I could see, it looked good, so we will have to make that at some point 😉
.
QVC Ninja Foodi 8-qt Deluxe XL
This seems like the same script as the QVC vids below, except it is in the 8-qt Deluxe version.
0:55 First up, we have a turkey breast with a nice crisp on it!
2:30 Creamy Mac and Cheese, and this looks like to me the recipe from the book you get with the Deluxe.
5:20 Cheese Burgers and Burgers. I can't wait to give this a shot in mine! It is also impressive that they had put so many in there and are using the racks that come with the Foodi, or at least the ones we got when we purchased the Deluxe from Target. I will be writing a buying guide. We were able to save almost $80 on ours!
6:10 To go with your burgers, you will need some fries. And that is what is up next for us, Air Crisp French Fries.
6:49 Pasta bake! It seems like every segment has the pepperoni pasta bake, but I do like how they had this one way more done.
Side note I don't remember getting the silicone gloves in mine, but it makes me want to take a second look. They are the kind of thing that could have got shoved in a drawer before we knew how important they were, but I can tell you they would be ultra helpful. I have fumbled for towels and paper towels and anything else to pull my pot out at times.
HSN 1-hr long Ninja Foodi Original
The first shot is a nice-looking turkey or chicken, but I don't know yet. What I do know is my mouth is watering.
1:42 The host introduces Kinzie Swanheart

, and I have seen her in a couple of other Foodi productions presented as a test kitchen cook. I would be her job is enjoyable.
2:26 It was chicken, and they compared the tender-crisp and pressure-cooked versions. Basically, it is like looking at something you see in a comedy making fun of a failed meal and the "ultimate family dinner."
3:23 BBQ sticky St. Louis Ribs this is done by pressure cooking and then tender to crisp! They look like they came right from the grill. I was thinking about it, and they said, "we all crave texture!"
5:20 1-Pot meal – This is our good old favorite, the pasta bake. They show it earlier in the process, so you can see them add the cheese and pepperoni.
9:20 From the freezer, 2 lbs of French Fries. These really look good with a nice brown spicy look.
11:25 We sneak a peek at the pasta bake.
12:18 Steak and Mashed Potatoes! This looks so fantastic because we are shown that the potatoes are in the water, and she adds FROZEN steaks right on top of the water potatoes using a rack. This is official 'mind blown' territory. 2 min on pressure cooking. They go into some of the features of the pressure cooker and show how it generally works.
16:45, we get to see the final results of the potatoes and steak cooking. I really can't wait to make this one!
19:15, we learn that between switching the lids, the mashing was done, and cheese and cream were added, so you have that nice crisp finish on top and some fantastic potatoes on the bottom!
23:20 We revisit the pasta bake, which looks just as good as you would expect! Ready to dive in and enjoy? The general cook time is mentioned as 30 min.
25:41 Examples of the dehydrate function on the table. There are some really good-looking fruits and veggies, but also beef jerky!
27:15 Chicken Wings! Oh yeah, these look good, and I have tried them a few different times. I promise it works as well, if not better than they show. That video should be out soon, but I will link it here once it is out.
30:00, we jump into a shot of some bacon Brussels sprouts. Roasted Brussels sprouts with bacon and siracha mayo; yes, please.
33:05 How to make an entire chicken inside the Foodi. This is nice because she has a little video guide that teaches about the tools with the Foodi and how to use them.
37:30 When it comes to that whole chicken inside the Foodi, this is what you have been waiting for as she shows us what it looks like when it is done! This thing again, is movie ready.
43:33 Homemade chili with cornbread topping and cheese. I'm sitting here wondering how the HSN staff are not all approaching my weight.
44:50 A quick shot of a chocolate cookie skillet that I thought was worth noting, but it got better as they cut into it, and now I know a great dessert I want to try in my Foodi… Oh, did I mention they then add ice cream? They really know how to make a guy hungry.
51:45 Salmon dish using the book guide for making 360 meals. First, they cook the rice and veggies; then on the top rack, they add salmon filets and a few more veggies.
55:00 We get to see the Salmon dish done. It looks so good. More recipes for me to try out!
QVC Ninja Foodi 6.5 qt 8-in-1
QVC has some very similar scripting on these videos, so I broke down this first video (it was the first one I found of the bunch). Then I post the other videos for you to check out.
These videos include the Ninja Foodi Original, both the 6.5 qt and the eight qt.
0:57 Whole roasting chicken is the first one to kick it off here. They also give some instructions for us, saying to pressure-cooker for 20-22 min, then swap the lid for a crisper. Crisp for 15 min or longer for the more crispy outer layer.
4:15 Ribs, these really look fantastic. Same as mentioned in other places, pressure cooks the ribs, then tender crip them with bbq sauce on for some amazing results.
6:15 The pepperoni pasta bake is back again. Pressure cook the noodles right in with the sauce. Next, switch your lids out and add the cheese and pepperoni. Now all that is left is to let that baby tender-crisp to perfection!
9:05 French Fries! Whenever I see the fries, I think about that nice crispy fry bite I like. These have that! Here they are tender crisping 2 lbs fries, and they come out fantastic. Air frying at its best!
10:51 Montage of foods, you know, the standard stuff any foodie might want to see 😉
This one is the same script as the first.
Here is a slightly different one for the eight qt version of the original Ninja Foodi.
More Articles