Whether you're revamping your whole kitchen or kitchen cabinets, a fresh coat of paint can go a long way.
Freshly painted cabinets will quickly make your kitchen look better. The best part? It's a simple and less expensive process.
So, instead of buying new kitchen cabinets, check out the suggestions for the best paint for kitchen cabinets below and get to work.
If you've never shopped for paint for kitchen cabinets and you need guidance, don't fret. Below, you will find a guide on how to choose the best paint for kitchen cabinets.
When choosing the right paint for your kitchen cabinets, consider paints that last longer and don't take too much time and effort to clean. Also, spraying instead of painting your cabinets ensures a more professional finish.
Now, let's learn what paint makes a perfect choice for kitchen cabinets and how to paint your kitchen cabinets properly. Let's find the best paint for cabinets.
Can I Paint My Kitchen Cabinets Myself?
You can paint your kitchen cabinets yourself. It's not rocket science. You just need the right paint and basic skills.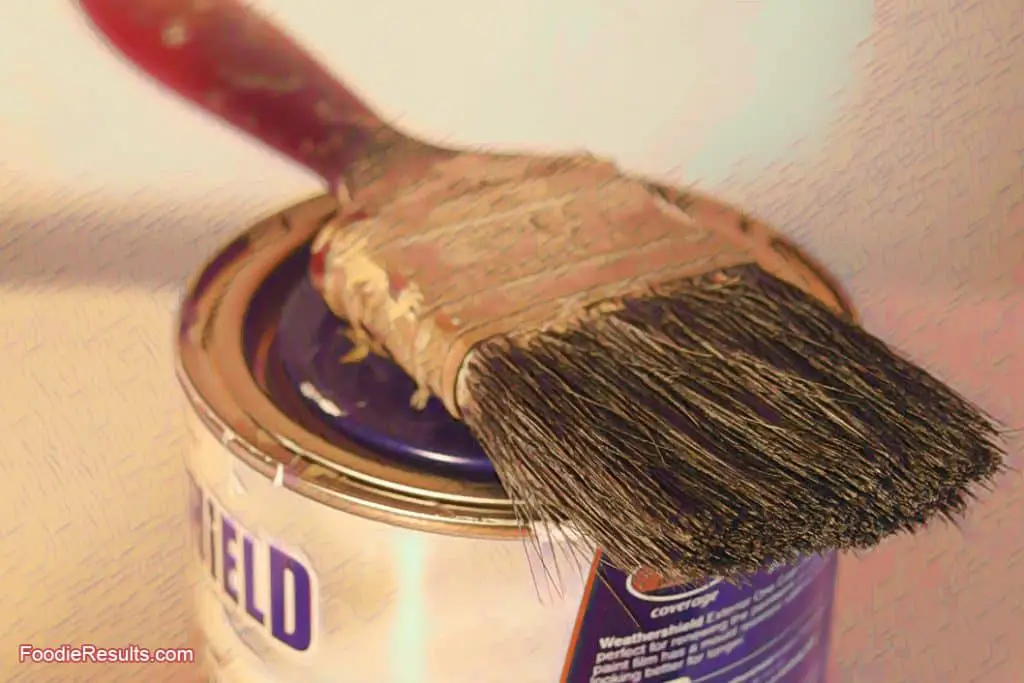 However, before starting this DIY project, you should understand your painting surface. Kitchen cabinets contain different materials, including MDF, solid wood, etc.
They're common materials that homeowners don't paint themselves because they think painting kitchen cabinets takes time and effort.
In reality, you can paint your kitchen cabinets in just a few hours and save money.
Let's discuss the advantages and disadvantages of painting kitchen cabinets alone, so you can better understand the process.
Advantages of Painting Kitchen Cabinets
Hiring a professional has considerable costs, such as labor and material costs. So, why pay someone for the work you can do yourself for a fraction of the price?
If you paint your kitchen cabinets, you will save some money.
Moreover, if you paint your kitchen cabinets, you can experiment with different finishes and colors for a unique look.
Disadvantages of Painting Kitchen Cabinets
If you skip steps in the process, intentionally or unintentionally, you will get poor results. Also, you will likely hire someone for the job of repainting and pay twice the money.
Additionally, painting your kitchen cabinets without professional assistance comes with a risk. There's always a risk of scratches when painting or paint chipping.
You can prevent these issues by following the right advice and properly preparing your painting surface.
Whether restoring time-worn kitchen or bathroom cabinets, you should always sand the material and use the proper paint. Otherwise, they will attract moisture and cause worse issues like mold, mildew, or fungus.
And trust me, you don't want these things near your food or hygiene products.
Overall, painting your cabinets costs less than paying for professional painting services. Therefore, if you're up for a challenge, read on, and let's find the best paint to complete your task.
What is the Best Paint for Cabinets?
If you're wondering whether you can use oil-based paint for your kitchen cabinets or try latex paint, you're not the only one.
Many homeowners wonder the same thing, so I decided to review these common paint choices and help you determine which paint makes a better choice.
Oil-Based Paint
Most use oil-based paints for kitchen cabinets because they have a resilient finish. Also, these paints make cleaning a breeze.
So, if you open a kitchen cabinet with greasy or sticky hands, you can easily wipe away any residue without stressing about removing the paint or dulling the surface.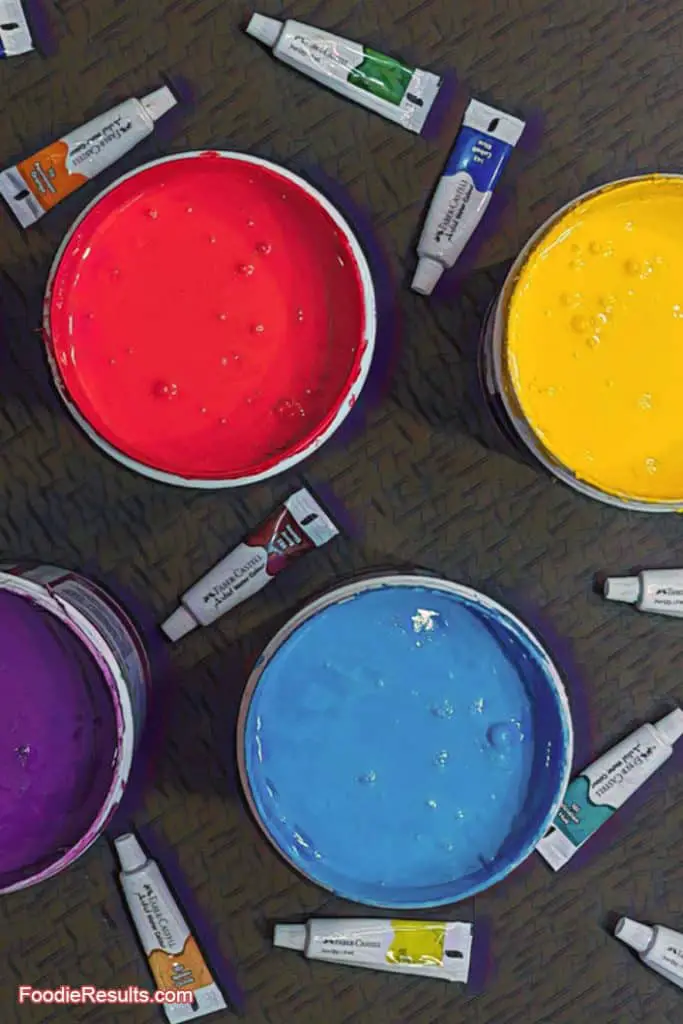 However, oil-based paints have disadvantages you can't ignore. For example, they take longer to dry completely in between coats. In fact, they can take up to 16 hours to dry or even a few days without good air circulation.
And keeping kitchen cabinets empty for so many hours or even days until the paint dries isn't appealing. You should find temporary storage for your kitchen supplies and shout a warning whenever someone enters the kitchen.
Moreover, surfaces painted with oil-based paint can develop a yellow tint over the years in low-light conditions; therefore, your kitchen cabinets won't look as shiny and beautiful after a few years.
WARNING: Unfortunately, oil-based paints emit more dangerous compounds known as VOCs than other paint alternatives.
These volatile organic compounds can cause nose, eye, and throat irritation, shortness of breath, headaches, dizziness, and other serious effects.
Therefore, using paint rich in VOCs near enclosed eating utensils, food, and spices isn't a smart idea.
Benefits of Oil-Based Paint
Long-lasting finish
Excellent coverage over wooden surfaces
Scratch-resistant
Downsides of Oil-Based Paint
A high amount of VOCs
It develops a yellow tint over time
It takes too long to dry
Latex Paint
Most homeowners prefer oil-based paints for their cabinets because of their long-lasting finish and easy application. Moreover, they're scratch-resistant and easy to clean.
However, latex paints make a better choice because of their lower VOC levels and fast drying.
Additionally, water-based paint formulas advance constantly, simplifying the use of latex paints for kitchen cabinets.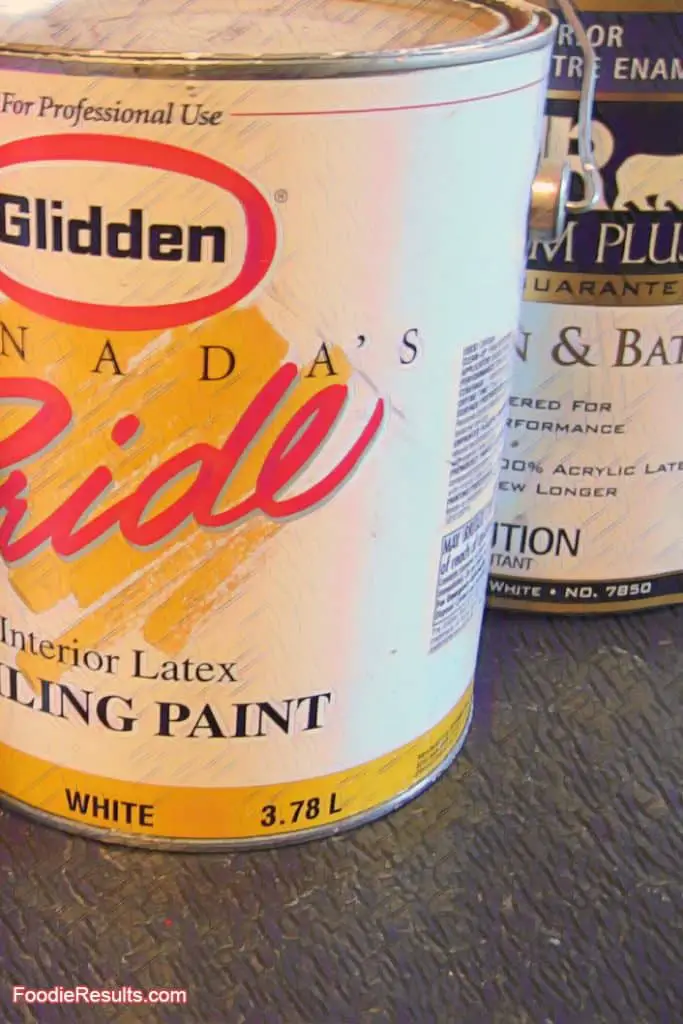 Nowadays, many latex paints deliver greater durability; they can handle heavy cleaning. That's why more people have started choosing latex over oil-based paints.
Most describe latex paints as washable, which is something you want in colors for your kitchen cabinets.
You must prepare your surface properly for latex paint if you have wooden kitchen cabinets. Oil-based paints can quickly cover wooden surfaces, among many other surfaces, which isn't the case with latex paints.
Therefore, if you want a smooth and even result, you should prepare your cabinets for a successful project.
Below, I will share tips on preparing your surface properly, so ensure you stick until the end.
Important note: Latex paint makes a perfect and safe option if you have pre-painted kitchen cabinets instead of natural wood.
So, if you don't know what type of paint has been used on your cabinets previously, the water-based formula will work better; oil-based paint doesn't sit well over latex paint, but latex paint adheres well over oil-based and latex paint.
Benefits of Latex Paint
It dries faster
Adheres well to oil-based and latex paints
Low or no VOCs
Downsides of Latex Paint
You must prepare your surface before applying latex paint for a smooth finish
Some formulas aren't scratch-resistant
Hybrid Enamels
Science came up with hybrid enamels when looking for alternatives for oil-based paints with lower amounts of VOCs.
They invented paints with great finish and protection for painting wooden surfaces, also known as Acrylic Alkyd paint.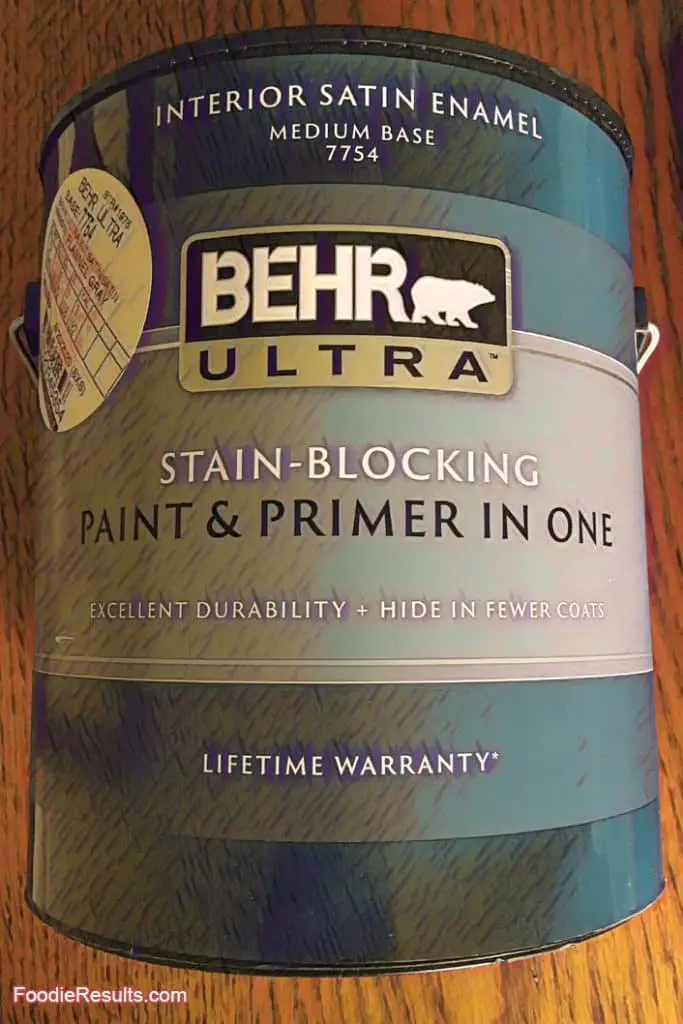 These paints deliver the lovely finish of oil-based paints. They're also easy to clean, like water-based paints.
In hybrid enamels, oil molecules surrounded by water molecules carry the pigment. And as the water slowly evaporates, the paint leaves a durable and shiny finish.
The best part? You can quickly clean up this surface with just water and soap.
Moreover, if you don't use all the paint, you can let the leftovers dry and toss them in the trash instead of visiting the nearest hazardous waste disposal site.
Extra tip: I suggest you spray hybrid enamels with a paint sprayer for smooth and even results. If you don't have a paint sprayer at hand, you can also use a brush or roller and still get a beautiful finish.
Benefits of Hybrid Enamels
Easy to clean
Glossy and durable finish
Scratch-resistant and long-lasting
Washable and water-resistant when dried
Low VOCs
Downsides of Hybrid Enamels
Some paints provide a less durable finish than oil-based paints
Some paints don't have the same glossy shine as oil-based paints
How to Choose the Right Paint for Kitchen Cabinets?
Paint has evolved over the last decade. Manufacturers have come up with new formulas that provide smooth finishes. They're also easy to apply and clean.
For instance, interior wall paints were primarily latex. Nowadays, they're usually acrylic-latex blends.
That's why fewer people choose oil-based paints. Everyone considers oil-based paints outdated after the invention of acrylic-latex blends. These blends pack the many advantages of oil-based paints in water-based finishes.
"Alkyd" meant oil-based paint. However, the new alkyds aren't oil-based. They're water-based. In reality, most paints consist of different blends, which makes finding the perfect paint for your kitchen cabinets confusing and overwhelming.
That's why I created the following list of words you should look for when buying paint for your kitchen cabinets, furniture, etc.
I also made a list of words you should avoid when buying paint, so take a look.
Words That Describe Good Paints for Kitchen Cabinets
Enamel: If you use enamel, you will get a tough finish that doesn't require a topcoat.
Acrylic: Acrylic paints without latex adhere well to finished wood, such as cabinets and furniture, and don't peel over time.
Urethane or alkyd: These paints were typically used for automotive or industrial uses because they're durable, but today, they're also suitable for home use.
Words That Describe Bad Paints for Kitchen Cabinets
Latex: If a paint says "latex," it contains vinyl resin binders; therefore, it peels over time. Latex paint isn't suitable for painting cabinets and furniture, but it's still a great choice for walls. 
Oil-based: You can use oil-based paint for your kitchen cabinets and furniture, but note that oil-based paint requires solvents for cleaning and isn't easily disposable. It's flammable and develops a yellow tint over time.
Best Paint for Kitchen Cabinets Depending on the Type of Material
When shopping for paint for kitchen cabinets, first consider the material of your kitchen cabinets.
Do you have solid wood kitchen cabinets? Or they're made of wood veneer over particle board? Or perhaps they're MDF or laminate cabinets?
The material influences the choice of paint, so here's a breakdown of common materials and suitable paint for each one.
Wood Kitchen Cabinets
Every paint adheres well over a scuffed surface, so if you have solid wood cabinets, you don't have to stress over the type of paint. Water-based latex and oil-based paints make a great choice for wood kitchen cabinets.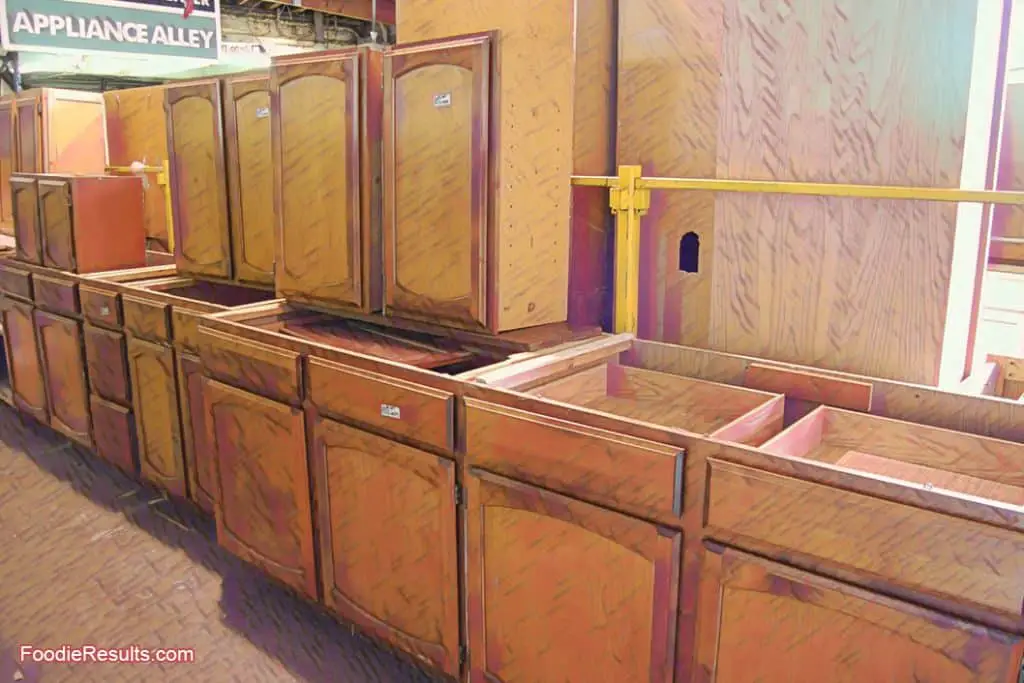 Flickr Image

by Our United Villages / The ReBuilding Center

Just make sure you sand the surface properly for the best results. The sanding makes a crucial part of the process if you're dealing with a stained texture or glossy finish.
First, remove the finishing coat with liquid de-glosser or sandpaper, then apply the paint.
If it's bare and natural wood, your cabinets don't need sanding; however, remember that raw wood absorbs a lot of paint, especially if you're using water-based latex paint.
You can prevent this by applying a primer; the primer will ensure a smooth coverage.
Wood Veneer Kitchen Cabinets
If your kitchen cabinets include a wood veneer (a slim layer of hardwood over a pressed material), you must prepare the surface for painting.
Simply put, you should sand your kitchen cabinets before applying the paint.
Important note: Examine the surface of your kitchen cabinets for loose edges, cracks, or chips before using sandpaper or paint.
If your cabinets need repairing, fix any cracks before sanding and painting the surfaces. Lastly, don't sand the surface too much; it should be rough enough to accept the primer and paint.
So, whether you use water-based latex or oil-based paint, you will get excellent results if you sand the surface properly.
MDF Kitchen Cabinets
You can get great results by properly preparing the surface of your MDF cabinets.
When preparing MDF kitchen cabinets for painting, you can seal the edge or add an oil-based primer.
The edge of these cabinets is more porous. And if it's not finished, you must use drywall compound for sealing. That way, you will prevent swelling during the painting process.
Also, because of their porous nature, oil-based primers perform better for MDF cabinets than water-based ones.
If you apply your primer first, you won't have to worry about painting your MDF cabinets with water-based latex paint, as the oil-based primer will prevent moisture absorption.
Laminate Kitchen Cabinets
You can paint your laminate kitchen cabinets. However, painting laminate requires more work and attention.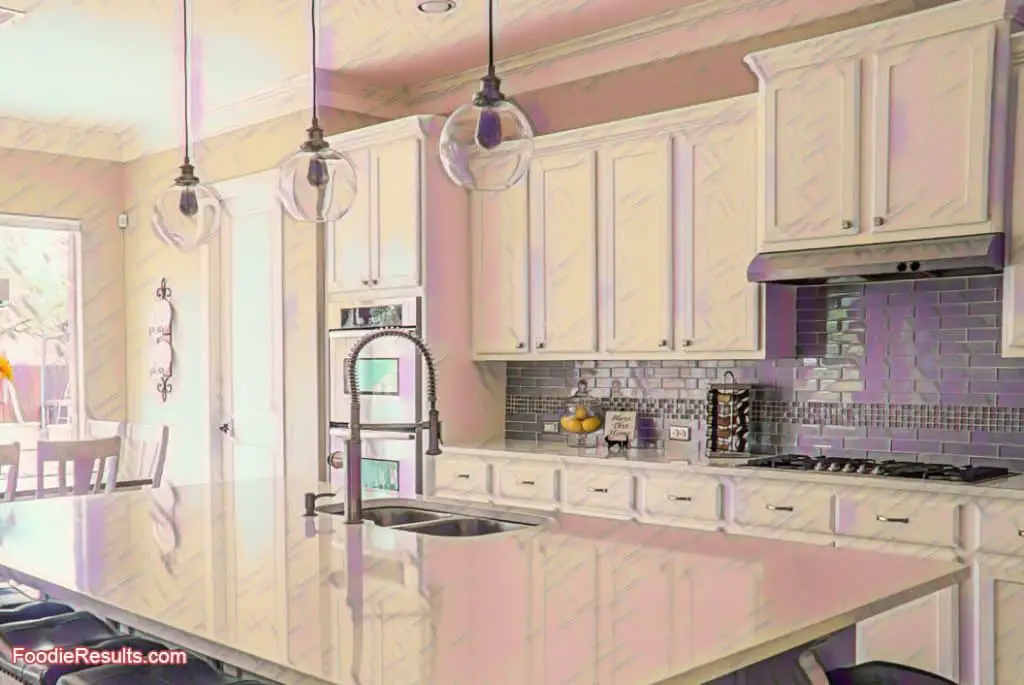 Laminate, a printed plastic that's glued on top of a base layer, is slick, so you must sand your laminate kitchen cabinets properly for a quality finish.
Also, I suggest using a primer or paint made for laminate because these products bond to the smooth surface of this material.
Just don't sand too much. You must still sand the surface before and after priming with fine sandpaper. Otherwise, you can damage the surface beyond repair.
What's the Best Finish for Kitchen Cabinets?
Unfortunately, even the highest-quality paints for cabinets will fade over time. However, applying a transparent top coat can make your paint last longer.
Kitchen cabinets endure a lot of pulling, touching, and slamming over the years, but you can prevent scratches and chips by completing your paint job with a finish.
You can use a semi-gloss finish, gloss paint, or eggshell or flat finish paint. Let's discuss each type of finish and decide which makes a great choice for you.
Semi-Gloss Finish
If you're looking for a finish with a little sheen, look no further than semi-gloss.
This finish will reflect light and make your kitchen cabinets more durable. The best part? It's washable, so you can clean your kitchen cabinets with water without worrying about scraping off the color.
Gloss Paint
If you're a fan of super shiny paints, consider gloss paint. It's a popular choice among people who prefer modern kitchens and bold color choices.
The gloss paint is more durable than a semi-gloss finish because it's made with more resin and binders.
Eggshell or Flat Finish Paint
I suggest avoiding eggshell or flat finish paint finishes because they're not as washable as the previous two choices. If you use any of these finishes, you risk ruining your paint job when cleaning your kitchen cabinets.
Do I Need to Sand and Prime My Kitchen Cabinets Before Painting?
Whatever paint you're using, I strongly suggest sanding and priming before applying the paint. You can skip these two steps but won't achieve great results.
At least sand your kitchen cabinets before painting.
I always sand and prime my cabinets before applying paint because I don't want to risk ending up with badly painted doors that will ruin the look of my kitchen.
Some paints, like alkyd paints, adhere well and last longer with a primer underneath.
If you have prefinished or painted ones, you can use any primer. If they're unfinished or made of mahogany or cherry, you should use a primer that prevents wood tannins.
What Paint Brush Should I Use?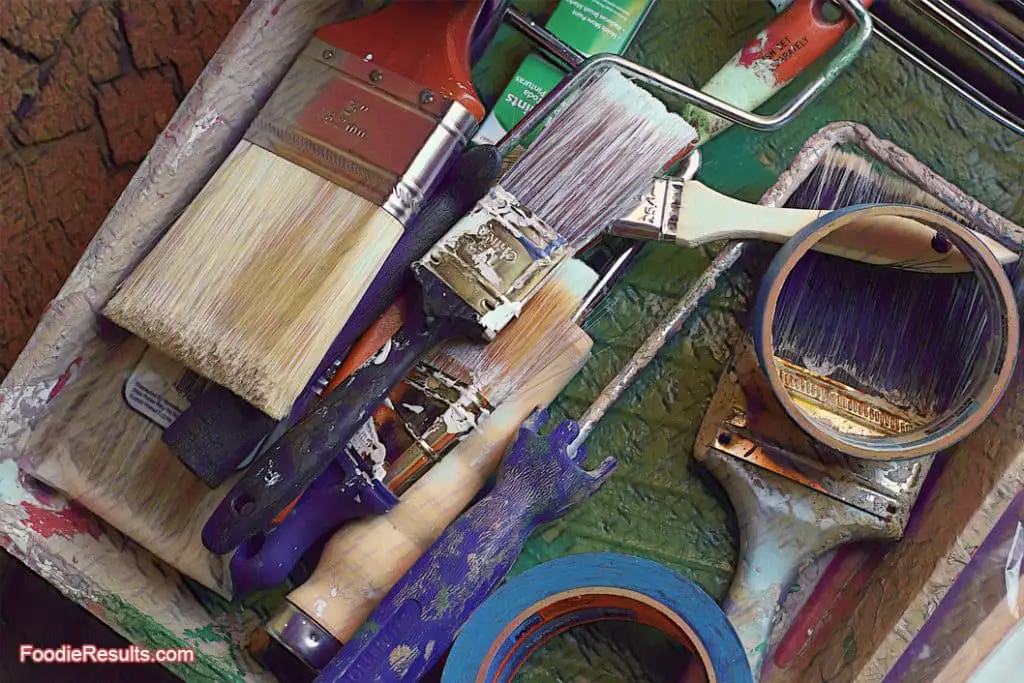 I suggest using a mini-roller for painting kitchen cabinets. However, you can also use a paintbrush or paint sprayer. If you choose a paintbrush, you will get a rustic look, which some homeowners prefer.
However, ensure it's a synthetic bristle paintbrush. Synthetic brushes don't absorb too much water, unlike natural ones made of animal hair.
Final Tips for Painting Kitchen Cabinets
In a nutshell, painting your kitchen cabinets requires patience and some elbow grease. However, it's still a quick and easy project you can finish in a day.
So, if you're ready for a change in your kitchen, choose the right paint for your cabinets and get to work. You can save time using a mini-roller if you have flat doors.
However, if they're paneled kitchen cabinets, I suggest using a paintbrush for a smooth and even coat.
Extra tip: You can quickly remove any dried paint off your glass-front kitchen cabinets with a razor blade.
Lastly, remove any hardware before painting. Also, if you plan to replace the hardware with something fresh and new, fill the old holes before sanding and painting.